VIP & Event Tag Security Options
Need to secure your event tags?
You have decided to issue VIP credentials to important guests at your event. how do you keep counterfeit copies from getting through security?
---
PERSONALIZATION
Personalization is one of our most popular choices. Send us your list of names and we will print on your event badges or tags. Using our digital presses allows us to print names in color and your font choice! Make it part of the design to give your tags a true keepsake quality! Attendees will appreciate the extra attention to detail. Personalization is available on these products: FCP Digital Badge, HCN Laminated Badge, HCP Photo ID Badge, PI Printed Inserts, HPW Paper Event Tags, HWC Loyalty Tags, BB Beach Badges, FCW Digital Tags, HTW Laminated Tags, ATW Aluminum Tags, BTW Brass Tags, UTW Hardboard Tags, WTL Wood Tags. Looking for an ongoing solution? Check out products available on our BadgeRelease program!
---
ID-SECURE
ID-Secure is useful for securing event badges, luggage tags, parking permits and beach badges. Hold at an angle to view holographic words GENUINE & SECURE or pattern. See it in action! Holographic feature prevents unwanted copying. Special lamination is applied to one side (front or back of product). ID-Secure lamination is available on 20 mil tags/products only. Additional charges will apply to products below. PP Parking Permits, BB Beach Badges, HTW Laminated 20 mil Tags and HPW Laminated Paper Event Badges/Tags.
---
NUMBER, QR CODE, BAR CODE
Adding a consecutive number or mobile code is one of the easiest ways to secure your tags. Available on all of our digitally printed products. Numbering can be printed as part of the design or added discretely. Tag users can interact with the tag by scanning a QR code or mobile code with their smartphone. Can be linked to a website or video. The possibilities are endless!
---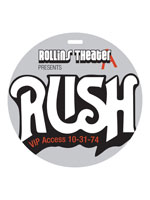 SPECIAL SHAPED TAG
Want to create a tag that will stand out? Use one of our shapes. Tag will become a keepsake attendees will hold onto for years. Most of our badges & tags have a variety of sizes & shapes to choose from. Custom shapes available by contacting customer service. Custom shapes are included with some products (ATW Aluminum Tags, BTW Brass Tags, UTW Hardboard Tags, WTL Wood Tags)
---
METALLIC PAPERS
Want to add a little pizazz to your VIP tags? Use our pearl metallic papers for our HPW Laminated Paper Event Badges/Tags. Choose from solid gold or silver pearl card stock. Special order paper stock also available.
---
DIGITAL WATERMARK OR AUGMENTED REALITY
Looking for a high tech solution? We can print a digital watermark within your design. Scan with a smart phone app from Digimarc app. Embedded into any digitally printed image. It is available on most digitally printed products. Should not be combined with ID-Secure or metallic paper. Watermark can be linked to an interactive website. More information about app here: www.digimarc.com. Example here on our site.
Note: additional charges may apply on some solutions